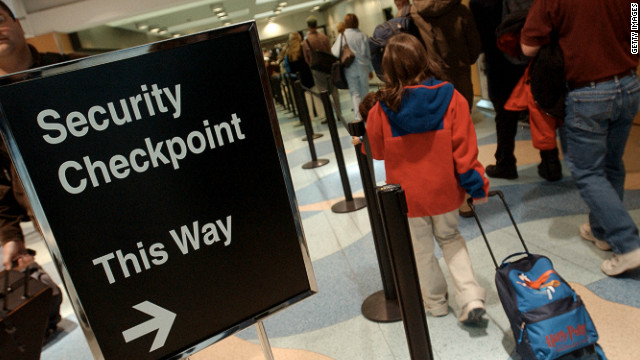 Know the 3-1-1 rule for carry-ons = 3.4 ounce (100ml) bottle or less (by volume); Prepare 1 quart-sized, clear, plastic, zip-top bag of liquids before arriving at the airport; 1 bag per passenger placed in screening bin. One-quart bag per person limits the total liquid volume each traveler can bring. 3.4 ounce (100ml) container size is a security measure.
Pack all coats and jackets in checked baggage when possible. All coats and jackets brought through the security line must go through the X-ray machine for inspection.
Do not wrap gifts. If a security officer needs to inspect a package, they may have to unwrap the gift.
Removing ALL items from pockets, as well as certain accessories, including wallet, belt, bulky jewelry, money, keys, and cell phone. Removing all of these items will reduce the chance of needing additional screening after exiting the machine. The officer viewing the image cannot see the passenger, so any irregularity that appears on the screen will require inspection to determine what it is. Dress for the screening metal zippers, eyelets, buckles, tie studs, cufflinks, and underwire bras may all trigger an alarm. Certain metal body piercings may cause the machines to alarm, which will result in additional screening.
When in doubt leave it out…Transportation Security Officers (TSOs) have to resolve any anomaly detected at the checkpoint. If you trigger an alarm when passing through a metal detector or advanced imaging technology unit, additional screening and time will be required.
Head Coverings: Travelers are permitted to wear head coverings and religious garments during the screening process. They may be directed to additional screening if the headwear or clothing (religious or otherwise) is loose fitting or large enough to hide prohibited items.
Wear slip-on shoes. Travelers are required to remove shoes before entering the screening technology slip on shoes speed this process.
Passengers with disabilities, medical conditions or a prosthetic device that prevents them from removing their shoes should notify a security officer. These passengers will be given additional screening that includes a visual and physical inspection.
Have your documents ready.  Passengers are required to show their boarding pass and ID at the TSA checkpoint.    
Take infants and children out of baby carriers and strollers and take them through the metal detector. Strollers and baby carriers go through the X-ray machine with your bags. If possible, collapse the stroller before arriving at the metal detector.
Behave. Hostile conduct, inappropriate jokes and threats are not be tolerated. They will result in delays and possibly missing flight departures. Local law enforcement may be called as necessary.
Travel often with one airline? Get elite status. Many airlines offer the benefit for their frequent travelers, which allows them an expedited the screening process. Pre-Check security lanes at select airports may provide the benefit of waiting in shorter lines and a simpler screening procedure.
Need help arriving on time, give us a call at 508-842-4790…we can help with that.