Since 1986 we've provided transportation for over 10,000 weddings!

It's one of the most important days of your life and it should only be left to experienced professionals. We are experts in sweating the details and adhering to every nuanced request. Our commitment to service excellence is the reason we're Boston Magazines choice for "Best of Boston" wedding transportation, The Knot's Hall of Fame and Wedding Wire's Couples Choice award.
From coordinating the transportation for:
Wedding Party Pickup
Photoshoot
Ceremony
Rides for the Family
Reception
After Party
Hotel
Return to an Era of Unparalleled Luxury… Let our staff assist you in making your day a perfectly flawless occasion.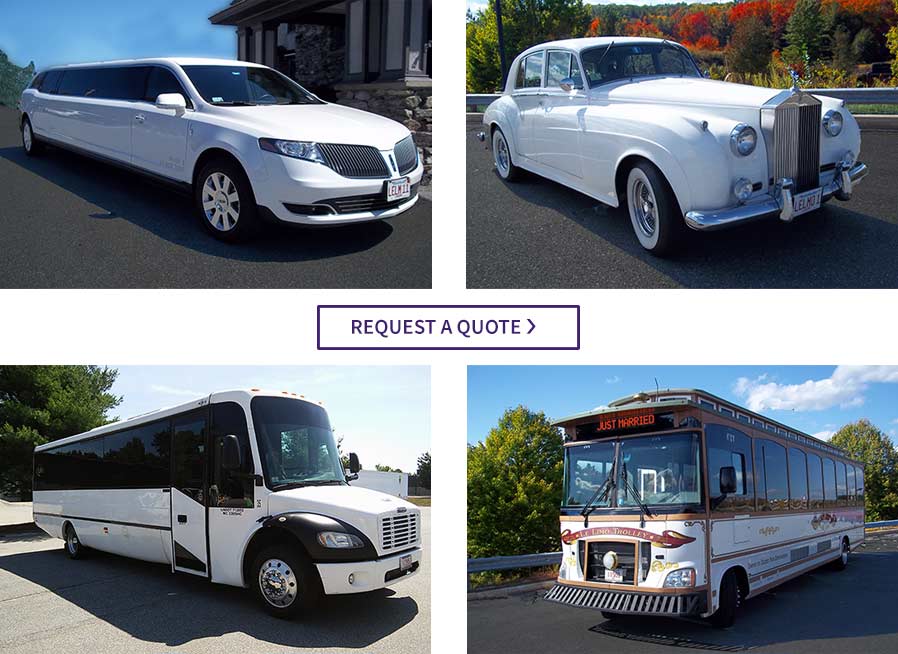 Wedding FAQs
What should you budget for your wedding transportation?
This depends on the type and number of vehicles you are planning to hire. Please understand that most limousine services have a rental minimum of 3 hours. Most services do not offer "pick-up" and "drop-off" service as this only consumes 1 hour of time.
Limousines are costly business assets; it is not cost effective for limousine services to offer their service for 1 hour. Typically a 1 hour rental would consume more than 3 hours when considering travel times and vehicle preparation. You cannot rent a nice hotel room for 5 hours; limo service is similar.
A typical wedding rental package runs from $500 – $1,500 for 3 hours of service depending on your vehicle preference. Exotic vehicle choices are more expensive.
When do I start shopping for our ride?
A good time to begin your wedding limo shopping is 6 to 9 months before your wedding date. Procrastination could result in your vehicle of choice being unavailable. Conversely, most companies do not handle inquiries for service which extend beyond 1 year.
Can my entire bridal party fit in a limo?
Most limousines simply are not big enough to accommodate large wedding parties of more than 10. Exotic vehicles and buses (or our trolley) can accommodate larger parties. When shopping, make sure you specify the number of passengers you want traveling. Although a limo might be designated as a "12 – passenger" limousine, it may be difficult to squeeze 12 adults dressed in formal attire in such limos. Sometimes multiple vehicles is the simplest solultion.
Should I get a contract?
Having a contract with your chosen limo company is a wise decision which will help avert any unforeseen requirements or missed expectations. Sadly, many firms do not put their services in writing- you should require it!
When is a good time to hold my wedding?
If you haven't yet planned a wedding date, consider alternatives to the popular spring time option. Why? During prom season (March – June) demand and availability for limo and wedding services skyrockets. Prom attendees scoop up any evening availability.
In the spring, bridal parties may find themselves with limo options that require longer minimums plus venue rates may be 30% higher than normal.
If your wedding date is in the spring, we suggest starting your limo search 1 year before your wedding date. For wedding dates during other seasons, 6 months is adequate.
Do we pay while the limo is just waiting?
Limo companies make their money by the hour. You still have to pay for the rental time during your wedding even if you aren't physically using the vehicle. Although the vehicle is not in use, it cannot be used elsewhere; even when there are 2 or 3 hours in between the drop-off and pickup. The vehicle needs to remain available in case plans change or an emergency occurs.
Can we rent a limo for 1 hour?
No. Most companies require a minimum 3 hour booking to rent a limousine. Between the time to get to the pickup, the time waiting and the time to drop off, it's usually longer than planned. During prom season, expect this minimum to increase; as much as 8 hours minimum.