Party Buses have skyrocketed in popularity. For Proms, Bachelor/ette Parties, Concerts, Sporting Events, Sweet Sixteens, Nights on the Town and Casino Trips, more and more people are getting together with friends to rent a party bus.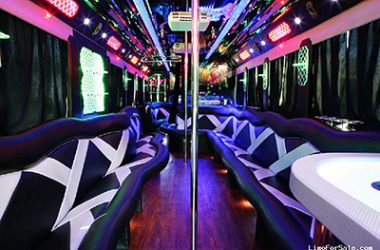 Real Party Buses are Loaded with Fun amenities 
Leather Seating
Light/Laser Show
Surround Sound Stereo
iPod hookup
Bar with Glassware, Napkins, Mints, Ice Chest, etc.
Reason 1: It's Affordable!
That's right, it's affordable. When you chip in with all your friends you may each end up paying less than $10/hour. This obviously varies by vehicle. We have Sprinters, Cabin Cruisers, Land Yacht, Luxury Liner, Shuttle, Trolley and more. Passenger space varies for each vehicle type.
Reason 2: Great Deals
Having a group of people in a party bus getting a ride to a casino or night club is a win/win. Companies love to get the customers arriving at their venue in a party bus. They like party buses so much that they regularly offer deals to our clientele. Casinos offer packages that may include free food vouchers, gaming credit and a free gift. Promotions vary and change for different casinos. 
Night clubs also offer us special deals. We can regularly get our customers in with No Cover Charge (or reduced) and Line Privileges. You can get access to VIP tables and ultimately get treated like a celebrity.
Reason 3: Get the Party Started
You don't have to wait to get to your destination for your party to start. Start when you get on the bus. Hook up you iPod, chill some beverages over ice and get your pre-game on during the ride. Adding the travel time to the party time makes for an epic night out.
Reason 4: Chill
A party bus alleviates all the angst and anxiety of a night out. Who's car? Who's the designated driver? Where can we park? Where can we pre-game? In a party bus you only have one responsibility, that's having as much fun as possible.
Reason 5: Safety
It may sound boring, but a party bus means a professionally-trained driver is keeping you safe. No worries about DUI or assigning some friend to be the designated driver. On a party bus everyone gets to party and they can party hearty.
Things to keep in mind:
There's a difference between a party bus and a party on a bus. Make sure you know what you're paying for or you may end up with a painted school bus with a disco ball (yes, really).
Think about the price per person. While there's no free rides, spreading the costs among friends makes the spending manageable. Of course, if you're loaded, just splurge.
Look for an experienced company running well-maintained vehicles. Gamble when you get to the casino, not when you hire your party bus.
Sometimes we hear from people that they don't have enough friends for a party bus. Well you'd be amazed how many new friends and friends of friends jump on board the party bus with you.
Le Limo has an extensive fleet of party buses from 12 to 28 passengers. Check out the fleet online.
Come to our Open House on Saturdays from noon to 3 or call us for a quote 508-842-4790.