Prom season is approaching and many parents are helping their teens prepare for one of the most memorable nights of their lives. Part of getting ready should include talking to your children about safety, including how to deal with alcohol, drugs and sex.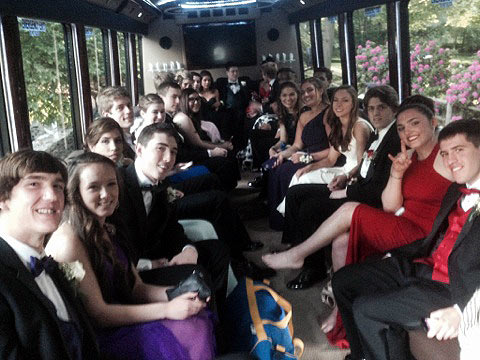 Talk about the potential perils and your concerns for your prom-goer's possible involvement with sex, drugs and alcohol use. You need to make sure these students understand the consequences of their decisions involving these activities. Additionally, most schools and towns now have very strict policies about drugs and alcohol. Not only can they be tossed from the prom, there could serious discipline and legal consequences. And those laws also apply to parents. Parents sometimes think, if I have the kids come to my home, I'll know they'll be safe. But actually, an adult host is now legal liable for any actions that involve your house guests drinking alcohol and taking drugs.
Talk to the parents of your teen's friends/date; make sure you all understand the plans. While your teen might tell you he's at Ethan's house, Ethan's parents may get told the prom group ended up at your house. Yes, you trust your child, but do you trust your all child's friends' friends? Find out where they're going and confirm what their plans are. Now is the time to be a parent, not a friend. Don't let them participate in dangerous behavior, let them blame you for not letting them act irresponsible. Better they be mad at you and safe, than to deal with any potential consequences.
Set up an escape plan for bad or perilous situations. Come up with a text message or other alert so that you can help get them out of any sticky circumstances. Tell them it's okay to call you at any time for help, advice or to get permission.
Set up check in times. Have teens contact you at pre-set times to confirm that they are safe. Ensure that they know that you want to know that everything is going as planned plus they need to make sure to let you know if plans change.
Set up a ride for the prom. It doesn't have to be a limo, but you want a safe alternative to letting the prom-goers drive. Whether it's due to drowsiness, over exuberance, bad weather, taking selfies, side effects of over the counter medicine, texting, speeding to impress a friend, putting on makeup or drinking alcohol, the fewer teenagers driving on prom night the better. Hire a professional to drive, don't take risks with safety.
Tell your child, it's okay to say, "NO." Whether its drugs, sex or alcohol, your teen has the right to say no and real friends will respect that decision.
Remember that even though your kid may not be the misbehaving type, others in his group my not be so disciplined.
Le Limo has some very strict rules for prom night. No beverages are allowed on board our vehicles. Water and vodka look pretty much the same in a water bottle. No backpacks are allowed. Again, we don't know what's in the backpack, but we'll know it will be safe if the backpack stays home. We also don't let the kids change the ride route. If there's a need to redirect the trip, we will do that only when it is requested or approved by the parents of our riders.
Have a magnificent and safe prom night.