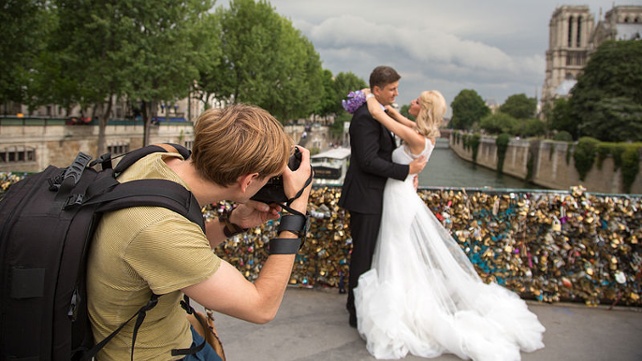 1. Finalize (and Stick to) the Wedding Day Schedule
Make sure to tell your photographer your final schedule for your wedding day.  She'll need that information to plan your shoot and to take advantage of any opportunities to use natural lighting. Stay on schedule, being late not only interrupts the photographer's schedule; it can impact all your vendors from your transportation and cocktail hour to food and music.
2. Restrict the Use of Your Guests Picture Taking
One of the most frustrating things for a wedding photog is when someone jumps into the aisle to snap a picture when he had lined up the perfect shot. Ask your guest not to interfere with keep photo moments.
3. Get a Second Shooter
When you think about the financial commitment you made to this day, skimping on photography can cause you to miss capturing precious moments.  The second photographer offers another unique point of view throughout the entire day that you would have been missed if he wasn't on the scene.
4. The Pursuit of Perfection
Let it go. If you harp on making sure everyone does what you expect you'll have a tough time enjoying your day. Communicate your goals clearly and then let the pros take over. You goal is to just have fun and keep smiling.
5. Schedule Time for Your "First Look"
Plan the 'first look' photo session before the ceremony.  Don't try to squeeze in picture time. Make a commitment so there's time to properly capture the moment.
6. Candids vs. Posed
If you want your album to include candid images don't feel obligated to to look up at the camera and stop what you're doing. If the photographer needs a posed shot, she'll tell you what to do.
7. Don't forget the Details
Spend some time thinking about what other aspects of the day are important to photograph — did your aunt make flower arrangements? Did you bring special heirlooms from your family? Bring an extra invitation; keep those special elements easily accessible for your photo shoot.
There are other things you can do to ensure that your photographer captures the key moments of your wedding day. Utlimately, the goal is to communicate with her to make sure she understands what you want her to do. Most of all enjoy the day.