Well we do. We just added a new lift capable of holding 26 tons! That's enough capacity to pick up FOUR of the Heaviest Land Animal in the World: The African Bush Elephant. While we don't have any elephants we do have several vehicles that tip the scales at several tons.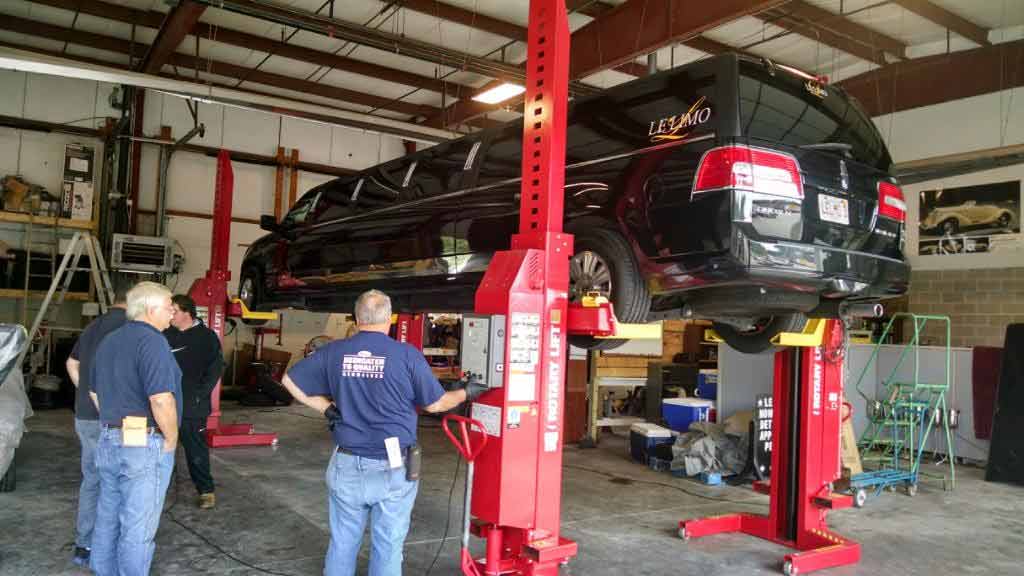 So why is a new left important to our customers? We're glad you asked. The lift, the MACH13, is part of our ongoing commitment to maintain and repair our own vehicles. While our sedans and SUVs can fit on a standard lift, we needed something a little more than standard to hold our limousines, stretch SUVs, Mercedes Sprinters, Party Buses and our Custom-Built Trolley.
Le Limo meets or exceeds every DPU and DOT guideline for safety, this new equipment makes it easier for our crew to get to the vehicle and do the work necessary. Oh, you won't find this lift at your local garage and you won't find any of our competitors using it. It's more than a car mechanic would need and most competitors outsource their maintenance and repairs. But letting someone else do this work can tie up the equipment for days and sometimes longer. We just think the best way to get it done right is to do it ourselves.
The lift is Rotary's MACH13 mobile column lift. It gives our technicians maximum accessibility to do maintenance. The machine is designed to accommodate vehicles with rims up to 24" in diameter. Designed to increase productivity, the MACH13 is ALI Gold Certified (MCH413U1A01). It has horseshoe wiring, LED control panels, a 69" rise, a spring loaded steering braking system, an inverted hydraulic lift cylinder and other fancy stuff that only our mechanics can appreciate.
Bottom line, we're always thinking about the safest way to keep our vehicles in top-notch condition. Safety is something we think about all the time, so you don't have to. It's just another step in the process that allows us Return you to an Era of Unparalleled Luxury.
Come by any Saturday from noon to 3 PM and we'll give you a tour of our facility, we'll even show you a car or a party bus if you'd like. Sorry, no riding on the lift.