Sometimes it's just safer to explicitly tell your photographer about the images you want to capture at your wedding. It's a good idea to make a checklist of any images that you think are important on your special day. We wanted to give you an outline of some classic shots that our favorite photographers use.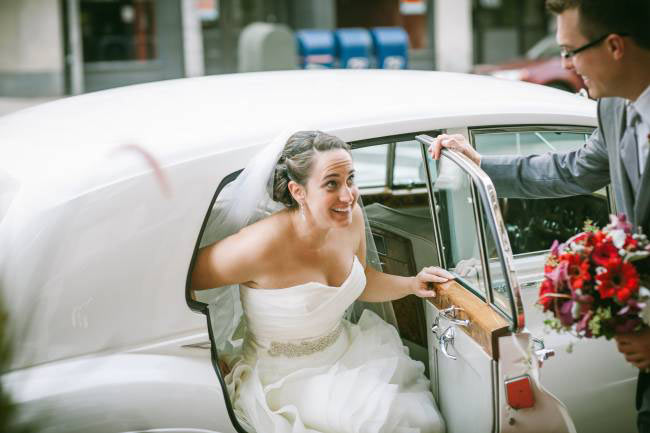 Have the photographer take pictures of the process of getting ready. Get a shot of the wedding dress on a hanger. Other important articles to put on the photographer's radar, bride and bridesmaids' bouquets, bride's jewelry, the wedding invitation and the engagement ring and wedding bands
Other photo ops during prep include, the bride applying her makeup, the bridesmaids and/or mother of the bride helping the bride into her gown, putting on the veil. For the groom get a shot of him tying his tie and pinning on boutonniere of the wedding party members.
Some typical shots for the bride include the bride alone, then with both mom and dad and then a picture of the bride alone with just mom and then just dad. Take pictures of the bride with the rest of the immediate family, siblings, grandparents, aunt, uncles, etc. You'll want to add a shot of the bride with her mother-in-law and then with the maid of honor. Pictures should also be taken of the bride and with her bridesmaids and the bride with her flower girl.
Snap the same set of pictures for the groom (except add the ring bearer). After these shots you want to take similar photos with both the bride and the groom in the shot.
Then there are the important ceremony shots. Like when the groom first sees the bride. Include various shots that capture the venue. Pictures should be taken of the wedding party as they walk down the aisle. You want the photographer to capture the vows and the exchanging of rings and then the all-important first kiss. Take pictures of the bride and groom leaving for the service which should be followed by the bride arriving in the limo at the ceremony.
The photographer should take multiple candids at the reception and add to the mix, room shots, close up of the seating cards, close up of the centerpieces. Then there are the first dances, which you'll want captured, and then the toasts, plus the cutting of the cake. The garter and bouquet toss make fun pictures and finally you'll want a shot of the couple leaving the venue in their limousine.