You're trying to impress a client, you need to make a great first impression and your competition is trying to do the same thing. You need to stand out. Not only do you have to dress the part, present yourself with great aplomb and represent your company, you have to know when to go the extra mile in trying to influence your prospective partner.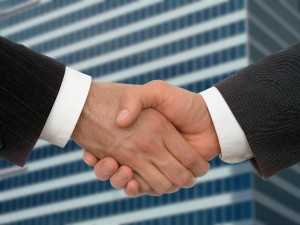 When traveling with or hosting a prospect, your obligation, is to ensure that your potential customer travels in comfort and luxury. A major opportunity to making a great impression is to provide executive livery for all their commutes. Whether it's an airport pick up, a business lunch, a meeting or a dinner, renting a limo is the ultimate opportunity to win new customers.
Do you really want your potential clients to wait in line for a rental car and then have to find their way to your office? Or have them wait in a taxi line hoping they'll end up in a cab that's clean and a driver that knows where they're going?
This is where your distinctive thoroughness can give you a competitive advantage. Surprise your client with car service the moment their plane lands. Have a chauffeur in baggage claim with your prospect's name on a sign. Give them the benefit of having a professional driver for their traveling. The driver will help them with their bags and make sure they get to the right location in style. Once they're in the back of a luxury vehicle, they'll have the opportunity to relax, make phone calls, answer emails or review work. Your clients will be grateful for the service you have provided for them.
Order the Right Car
Consider a luxury sedan, capable of comfortably seating up to three passengers with luggage. Whether it's a Lincoln or Chrysler sedan, your prospect will love the high-end, pristine feel of the vehicle as they climb in the back. With leather seating, free bottled water and plenty of room to stretch out, their trip to the meeting becomes a treat instead of a chore.
A chauffeured SUV offers seating for up to four passengers and has space for even the most challenging sets of luggage. The pristine black interior with comfortable wrap around seating provides maximum comfort in a relaxed ride.
A stretch limousine is the ultimate in luxury travel for an important visiting client.  A limo makes the ultimate first impression. With its stunning appearance, it offers the utmost in interior comfort. Limos are equipped with leather seating that can accommodate up to 10 passengers. The vehicles have bars with glass stemware and bottle water on ice. There's a privacy divider to ensure that the passengers have complete confidentiality and quiet in the back of the vehicle. There is also a DVD player and state of the art sound system for those who want to be entertained on their ride.
Impressing a prospect requires a lot of work, planning, proposing, presenting and providing them with the product or service they need. But starting their visit in the lap of luxury makes the kind of first impression that sets the foundation of a successful business partnership.