At Le Limo, we have our own dishwasher!!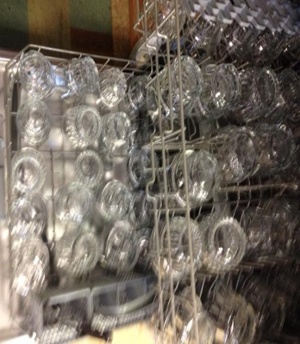 Why does that matter? Because we use it to clean our glassware the day before every vehicle goes out for a job.
Isn't that obvious? Well you'd think so but with so many small livery companies in the area, they just don't have space, time or budget to run their stemware through a dishwasher. Many don't even use glassware. They simply take it out of the vehicle figuring if you needed it you would have asked for it.
Some just skip the dishwasher stage. Well we've actually heard of stories where companies clean the glasses with glass cleaner and paper towel. Maybe some people like that fresh Windex flavor?
Then again, several companies just use plastic cups. We think that when you're paying for a night out draped in elegance, you deserve real glass.
At Le Limo, our sedans, limos, party buses, shuttle bus, SUVs, trolley, Sprinters, etc. all have real glasses, cleaned in a the dishwasher shown above. Many of our vehicles have two bars with a combination of highball and champagne glasses. There's a lot to keep clean.
How does this make us a great limousine company? Well, it's one of the many little things that we do to sweat the details. For us, it's all about exceeding your expectations. Every trip with Le Limo is a little bit more elegant than our competitors. It's our attention to the minutiae that earns us accolades from our customers, Angie's List, WGBH's Boston A-list, The Knot, Wedding Wire, etc. While we make sure to get the big stuff right, part of the what seperates us from other livery companies is our ability to get the small stuff right.
Our mantra is to do more and to help you Return to an Era of Unparalleled Luxury!