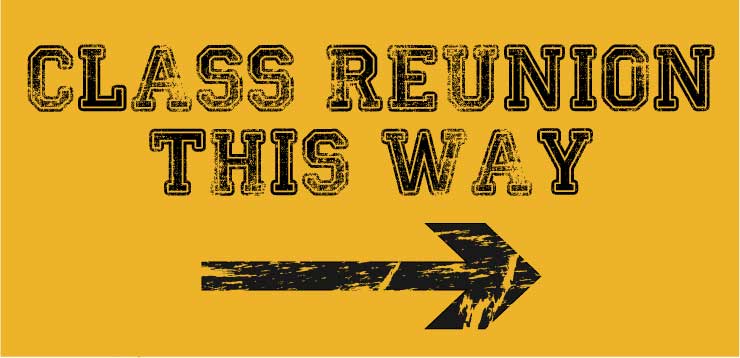 November is a popular time for reunions. Folks come back to their home for the long Thanksgiving weekend. If you're going to your reunion, we've compiled some tips on how to prepare to reacquaint yourself with old classmates.
Recruit some friends beforehand. Contact old classmates and make sure they know that you want them to come. Don't assume that the reunion committee found everyone. If you want to see an old friend, connect with them and let them know that you want them there.
Resume old friendships without blaming each other for not staying in touch. You're both guilty of not connecting so just take it off the table. It'll quickly ease the tension and you can quickly retrace the steps of your time together.
Don't cover up your nametag and then ask people, "Remember me?" If the answer is "no," then what? By the way, not everyone is going to look the same as they did in high school. Meanwhile, if you get caught with the question, say something like: "Ofcourse I remember you.  I've thought of you a lot since high school. I wasn't sure if you'd remember me."
Take your spouse! Your spouse can be a crutch and help to cue you in to old memories. If you don't remember a fellow graduate, simply introduce your spouse to an old classmate and have your significant other take over the conversation. They can comfortably ask, "so how do you know my other half?" Now you can reconnect the dots.
Then again, if you know that dozens and dozens of people will be there that you're aching to spend time with, leave your spouse home. There's no need for them to come to be a spectator.
Ask old classmates how they're doing. Don't ask them what they're doing. Don't force them to defend their life decisions or to try to top what you're doing. This is a reunion not a competition.
Buy yourself something nice to wear. Find something that makes you feel attractive and helps you feel confident.
Try to make one connection that you can keep. Since you're going to your reunion, you might as well find at least one person to stay in touch with. You have shared experiences with everyone there, try to renew at least one relationship.
Don't be afraid to be a little bit mysterious and create some intrigue about how you've matured! There's no need to tell everyone you meet about every single detail of your life. Sometimes sharing less is better.
Drink responsibly, it seems obvious, but there always seems to be a few folks that have too much. Being drunk can leave a bad impression, and you may need to wait 10 years to repair that sentiment.  While lots of classmates will turn to alcohol to help alleviate the social awkwardness, don't go overboard.
No matter how the night goes DON'T DRINK & DRIVE!! Perhaps you can afford a little luxury now that you're older and enjoying life.  So it might smart to get some old friends together to hire a limo. If you call us and mention that you're renting for a reunion we'll even through in a bottle of champagne for a reunification toast. A limo is a lot less expensive than a drunk driving arrest and safer than trying to get home after 'just a couple' of drinks.
Even if you don't hire Le Limo, please either assign a designated driver, have a family member pick you up or call a cab. There's nothing embarrassing about being safe. Please have fun but be careful as you celebrate.