While a limo is the traditional choice for your wedding day transportation, there are some interesting alternatives that may cause some buzz about your event. You should start the discussion about transportation by thinking about who needs to go where when. Obviously, keep in mind that alcohol consumption may make in reckless for some guests to drive.
You know you and your future spouse need a ride, but what about the bridal party and the parents of the wedding couple. What about the guests? Does it make sense to set up a shuttle from your venue to the guest hotel(s)?
There are lots of considerations which leads to lots of options for your wedding wheels. Here are just a few vehicle choices to consider.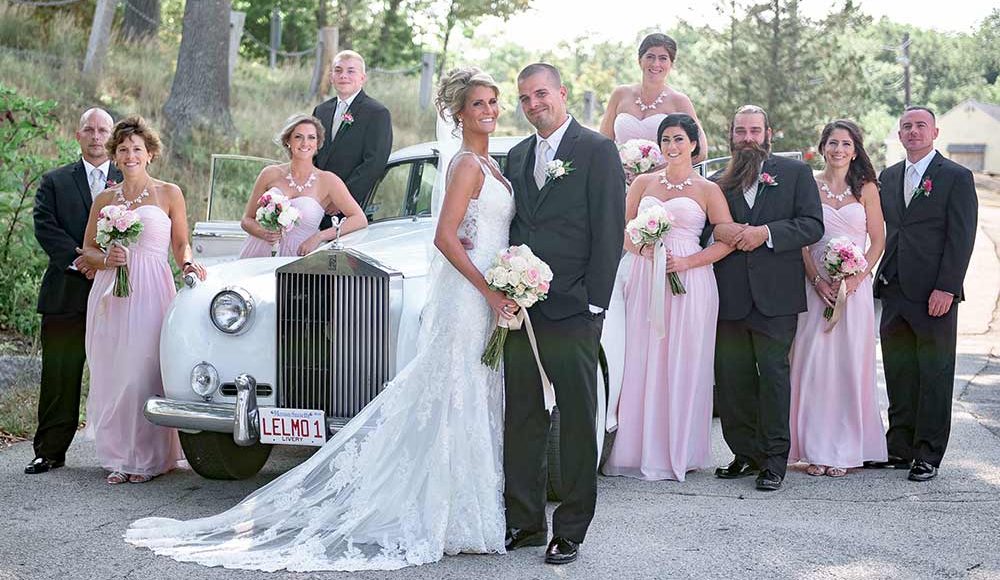 Go glam to your ceremony and reception. An antique car like our vintage Rolls-Royce not only create timeless memories, it also means that wedding photos never look dated. It's a classic option for a high class wedding.  
A traditional choice, the stretch limo brings a formal, luxurious look and feel to any event and is the 'go to' option for wedding transportation. Before you book, just think about some of the options available on the limo front. Town cars (latest model was 2011), Hummers (out of production in 2009) are still used by reputable companies but your images will be dated before you even finish the 'I do's." Ask about hiring a late-model style car. The SUV limo provides a little more glitz and glitter. While they typically seat more passengers, they also have some wildly fun amenities like a disco dance floor, Xbox and PlayStation gaming systems, under carriage lighting, surround sound, DVD players, full bar, light shows, gull wing doors, multiple televisions and more.
After all, this is a party. So let's get the party started during the ride. With seating up to 28 you and your guests can "belly up" to the bar, turn on the lights and crank the music, before the band even warms up. A party bus is a total blast, there's room to stand giving you sapce to roam, mingle, dance or just stretch out. With laser light shows, iPod stereo hookup, full bar stocked with ice and real glassware, your guests may not want to get off the bus.
With seating up to 35 a shuttle is the safest way to make sure that your guest get back to their rooms without any driving risks. While it's usually simple and straight forward transporation you can spruce things up by leaving gift bags or party favors on the seats or even by serving a midnight snack.  
Transport your guests in a luxury trolley with leather wrap-around seating, an onboard bar, surround sound and more. A trolley provides a great mix of class and character.  Trolleys can hold up to 36 passengers and they make a great backdrop for photo shoots of the bride and groom or wedding party.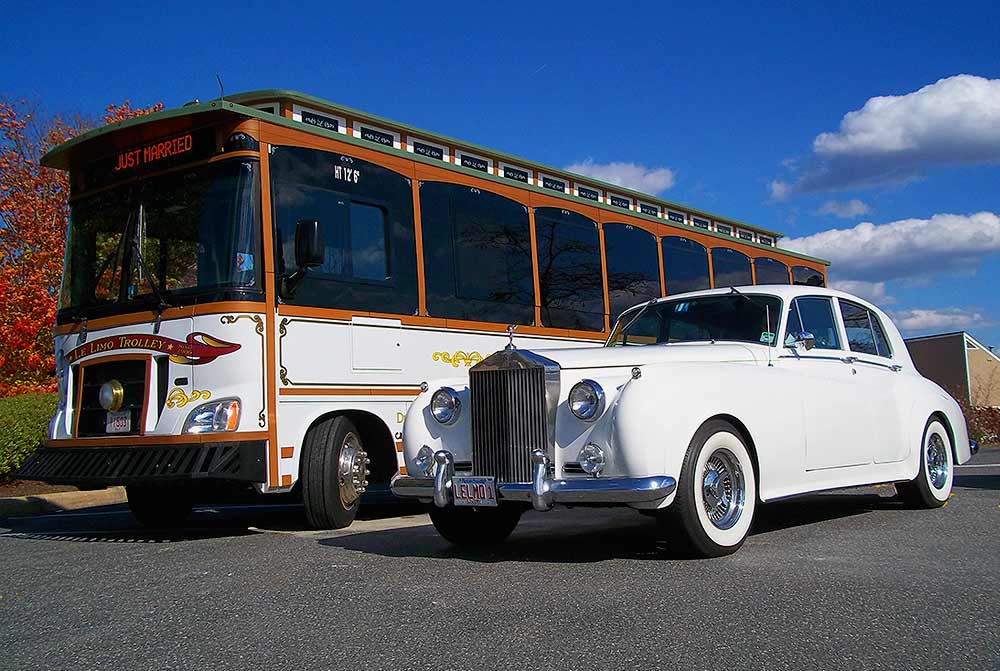 Obviously, you and mix and match your transportation options. You can get the Rolls for the Bride and Groom, a stretch SUV for the wedding party and a shuttle bus for the guests. Some groups hire a stretch limo for the parents of the bride and groom along with the wedding couple, while the bridal party travels in a bus. Our most popular combo is the Custom Built Trolley, for the wedding party and guests and our Vintage Rolls Royce for the Bride and Groom. This paring creates the ultimate photo op for everyone involved.
Most of all make sure to find a reliable, high ranked, professional company with wedding day experience. Transportation should be a choice not a worry. Le Limo would be proud to be part of your wedding day! Call our wedding logistics expert at 508-842-4790.